Threesome, so you want to have one?
April 11th, 2017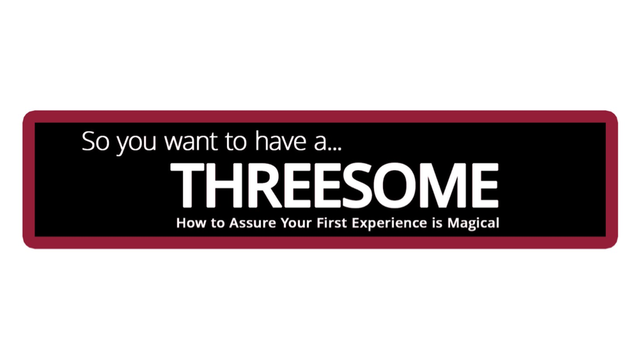 Threesomes are incredible…when done properly.
It's a bit different than "normal" sex where two people are focused on each other and (hopefully) multiple orgasms.
During a threesome, one or both of you need to be a bit more creative as well as understanding. For the most people this is considered an ultimate fantasy but you must both remember to keep the sexual fun separate from feelings. This can be challenging since many in society connect sex to emotions.
Successful threesomes are about the sex and ONLY the sex.
I want you to read the above sentence again to assure you are clear, checking your emotions at the door is must, if this is something you want to pleasurably experience.
If you and your partner are inviting a third into your "bedroom", they are simply a "guest star" while you two are the leading stars. The gender of the "guest star" isn't relevant when you, the couple, come up with your rules and boundaries.
At all times you must respect the "guest stars" rules and boundaries and never let 'their' wants come before those of you and your partner. If the "guest star" isn't ok with how you two want to play…find a new one. We promise there isn't a shortage of individuals that will want to participate.
Some couples like to try things out and make a decision later, but a word of warning here…
You don't know how you or your partner will truly react until you see someone on top of them or in them! If jealousy or insecurity has already reared its ugly head, then start slowly and always communicate openly.
There is a difference between verbally sharing a fantasy and physically acting one out. This is where the slippery yet fantastic slope is when considering and going through with a threesome.
Here are some things to consider:
Is anyone bisexual? This is important because it could make a big difference in how you play and whom you play with.
We often say the planning can be just as sexy as the actual playtime. When you are in the planning stages discuss how each of you will handle situations as well as a "safe word" (believing your partner can read 'a look' typically spells doom) to use if something is going amiss. Better to have a plan and not need it then to be in a situation that is out of control and the next day you are both filled with regret.
Now you are ready, right?
Not exactly. Don't forget extra condoms, lube and disinfectant to clean toys off if you are planning on using them.
Will the guest star be spending the entire night?
If yes, what are the sleeping arrangements?
Can the guest star and one of you play if the other is in the kitchen grabbing a bite to eat, showering, etc.? Don't snicker and think this isn't an issue…both examples ruined what would've been an incredible threesome experience for two couples we know.
Trust us when we share threesomes are magical and they provide incredible "spank bank" material. Threesomes are tough to mess up however some people just have a knack for forgetting their partner comes first and foremost. Remember this simple rule and wow, success will be yours.
Before having the threesome hopefully you discussed how you wanted to communicate about the experience the next day (if they spent the night) or later after the "guest star" has gone home.
Some of the best sex we've had together was while discussing the experience. We didn't plan to have sex however we both got so hot from talking about the experience we couldn't keep our hands off each other. This isn't always the case and if it doesn't happen this way for you…it is ok.
So, talk.
What did each of you think?
How did each of you feel?
What are your thoughts on another threesome with the same person or a new person?
Don't leave your partner guessing if you liked it or if you had no fun at all.
Communication is the key… before, during and after. Communication is how you both make sure there are no hurt feelings for any reason possible. Listen to your partner.
Don't be defensive or excuse things away if something bothers them. Hear the good and the not so good so you can learn and grow stronger together. Remember, this is about the "we" and not the "me".
Threesomes can be the ultimate gift to a spouse/partner for good behavior or a personal occasion such as a birthday or anniversary.
Unfortunately, if you are doing something you truly don't want to do, it generally turns out to be disastrous.
How come?
Because doing something for someone else means you are neglecting your true needs, wants and feelings. While you set an amazing atmosphere, have an honest conversation with your "guest star" and make sure you are all playing within the same boundaries.
You must remember to pull the plug when things are going south so when you go south it's a blast. If the threesome works, awesome! It is doesn't use this as a chance to communicate regarding whether you should make another attempt or put it on hold for now.